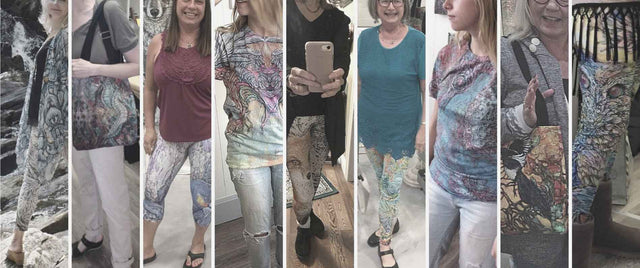 Snap and Save
Send us your best snaps!
Email your photo showing you wearing or using any of our items and receive a 20% discount on your next purchase!
It's the least I can do as for one; you will be making my day! It's uplifting to see someone love and appreciate my art. And secondly, it helps support my business by way of marketing and social media purposes.
Together we can help each other thrive!
What to do
Can you wear it? Put it on, take a selfie. Please be sure to make the item visible.
Nothing blurry please
You can choose to be headless. Or, prepare yourself for a relaxed smile just before the picture is taken: Close your eyes, take a deep breath, open your eyes just before the snap, and smile. :)
If it is a sculptural or home décor item, anything staged or in situ is very welcome.
Image size
Please submit a file size larger than 600 x 600 pixels.
Disable the HEIC image format on your iphone 7 or above (may require a quick google search) If that is just way too techy, send the original file (largest) from your phone.
Where to send
 Email to col@colmitchell.com
Please write in the subject line: Snap and Save
 Include Your Full name and phone number (I need this to generate a code)
Let me know how you would like your info shared: Not at all, First name only, First name and location (town/city or country), etc
I am happy to do any social media tagging on Facebook or Instagram as well so please include your info for that, if you wish.
 What Happens Next
 You will receive your own single use code for 20% savings redeemable towards regular priced items purchased on our wildblackbirdboutique.colmitchell.com
It may take up to 3 business days before you receive the code.
 Fine Print
 You are only eligible to participate in this Snap and Save offer once a month
Offer exclusions: Postcards & Art cards, Collaborative works
By submitting your photo, you are acknowledging the Wild Blackbird Boutique/Col Mitchell reserves the right to use images submitted to us through our social media channels and website for marketing materials including but not limited to social media ads, flyers, brochures and other marketing needs.
 Questions?
 Email col@colmitchell.com
And finally, thank you! I so look forward to seeing what you send.